Becoming Whole, Becoming One
April 28 -2:00 pm

-

5:00 pm
Sunday, April 28th, 2019, please come join us at 2 PM Pacific Time in Encino to
New: This is also available through live video streaming on Vimeo! Watch live from anywhere in the world.
Becoming Whole, Becoming One;
Creating Magical Realities from Inner Peace and Harmony
This is the second Galexis seminar in a new series "Living Your Magical Life" ( more Info here)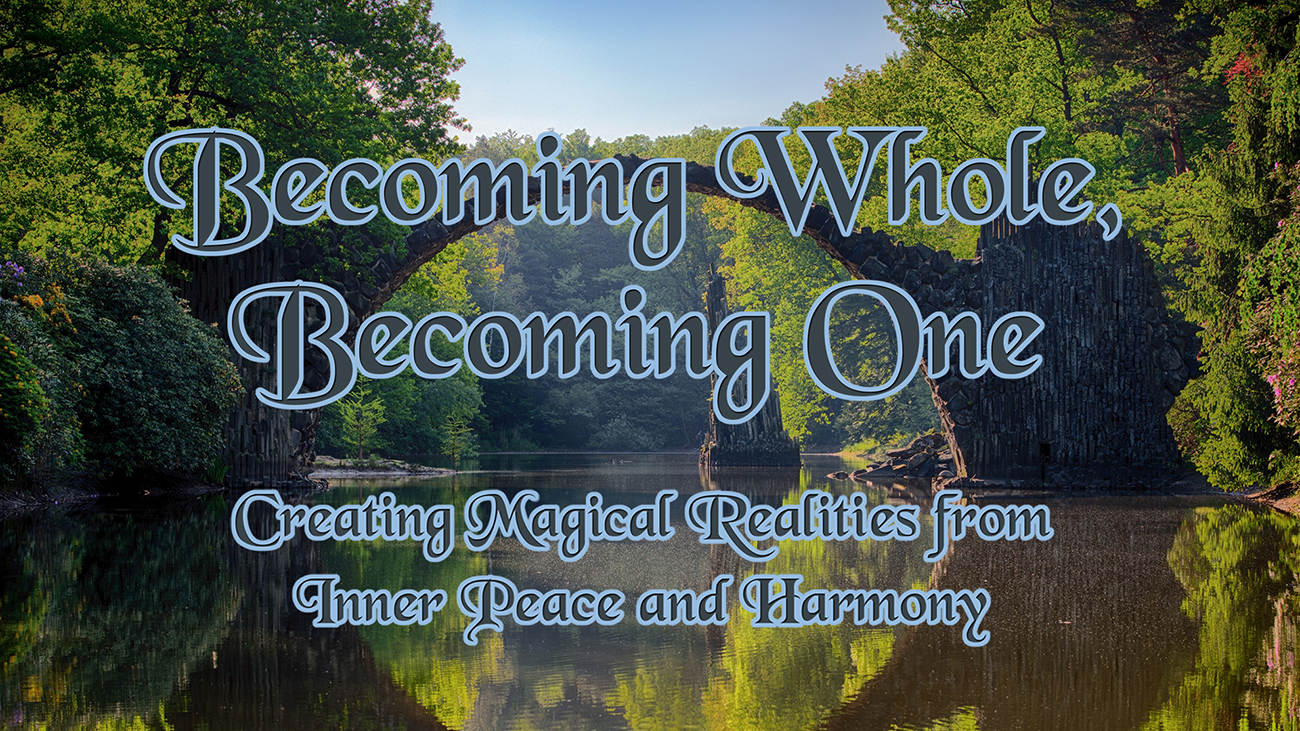 The Dangers of Fragmentation
When you are fragmented, your accomplishments fail to satisfy you. Even material success will disappoint you. Feeling a chronic sense of urgency, you will stay focused on survival and basic needs. Always feeling tense, you'll have the nagging feeling that something beautiful, meaningful, and purposeful is missing from your life. You'll yearn for a beautiful, fulfilling life.
One of the worst results of fragmentation is that you can be unwittingly manipulated, controlled, and dominated by the collective mind. Trapped in duty/obligation, and struggling to be pragmatic and "realistic," you remain in "victim consciousness."
The Beauty of Wholeness
However, when you are Whole, you are at peace. You can live a magical life free of conflicts and turbulence within yourself, and rely on your Universe to lovingly support you through externally based conflicts and stressful situations. Your life has love, richness, purpose, passion, and meaning. You are empowered to know and express your gifts with fulfillment and satisfaction.
You see, becoming Whole is THE aim of Your Spiritual Journey . Your evolution as a Soul is all about knowing your true, divine Greater Self . And when you can experience that God-Beingness of you, you can then enjoy your life, becoming playful, joyous, and fun. You can lift up those you love and even your world while having a total blast living your life!
What You Must Do Now
In this empowering and enlightening seminar, Galexis details what you must know and do in order to make yourself whole. Pieces of you compete and conflict with each other. Bringing them into harmony is a very important spiritual work, and you are here to do as part of your Mission. Galexis explains the process on how to do that, so that you and your pieces can be "all of one mind."
In the meditation, Galexis will take you on a healing journey to bring your fragmented inner pieces into harmony. Galexis will then help you step into your Greater Self, the Light Being you truly are, and welcome them all to merge into you. This is a blissful, ecstatic experience!
If Spirituality and your Divine Path are important to you, this seminar will be life-changing!
We hope to see you here,
Ginger and Daniel
Please arrive on time if you can. Start out early!
Price: US$29 if preregistered, US$39 at the door (after 6PM Saturday April 27th.)
$29.00Buy Now
Bring:
Friends and family (please no one under 10 unless s/he can sit quietly)
Comfort aids, notepad and pen. We will have water available.
Please do NOT wear any fragrances and this includes essential oils and clothes dried with fragrant dryer sheets, as some people are "scent-sitive."