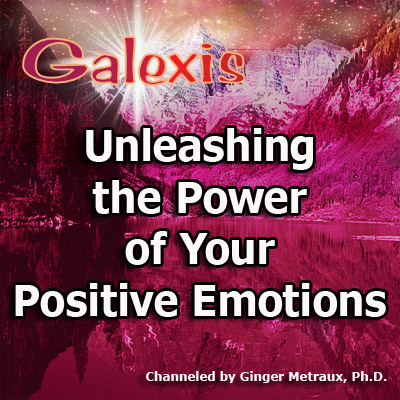 Item Number: 092
Unleashing the Power of Your Positive Emotions
Length: Approx. 3½ hours
Price: $34.97
How do you respond to situations that trigger your anger, fear or hurt? If you get defensive, shrink back, or run away, you are
missing a valuable opportunity to tap into your own strengths. If you quickly transmute those limiting feelings into emotional calm and confidence, you respond from your inner power.
In this dynamic workshop, Galexis details a process that
enables you to transmute those darker emotions into powerful and positive states of being. In the Q & A, Galexis uses real examples to show you how the shifting is done, and how to positively change ongoing emotionally unpleasant situations that appear un-resolvable.
In the magnificent closing meditation, Galexis takes you through this process using your own situation, so that you can step beyond any present fear, anger, and pain. Now you can be confident and feel safe about your future.