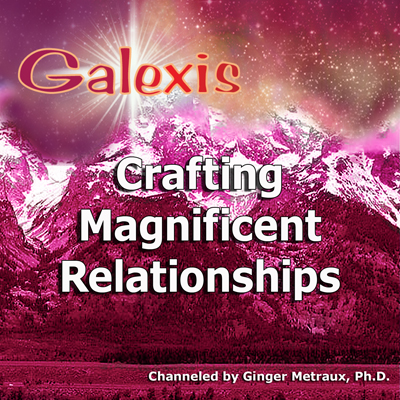 Item Number: 116
Crafting Magnificent Relationships
Length: Approx. 11½ hours
Price: $139.97
In this deep and stunning seminar, Galexis shares with you the secrets of a conscious relationship. By applying this, you too can experience a greater joy and freedom in all your relationships.
Relationships provide the greatest acceleration of spiritual and emotional development on the planet. They are gift of the divine, and reflect your vibration precisely. When you consciously energize and direct them, you will find your dreams manifesting much more easily and elegantly. Let Galexis touch you with their love and link you to the divine flow of life and light. Get downloads and healing. Hear beautiful, profound, clarifying, and loving answers to your most burning relationship questions.
Envision and attract to you new kinds of relationships. They will be natural and easy for you – the Divine Being having a physical experience. Live life as the powerful reality creator and spark of consciousness that you are, and live the life you were born to live!
You will emerge from listening to this seminar a new person, empowered, free, loving, and safe. This is your passport to relationship success, ready for you now!