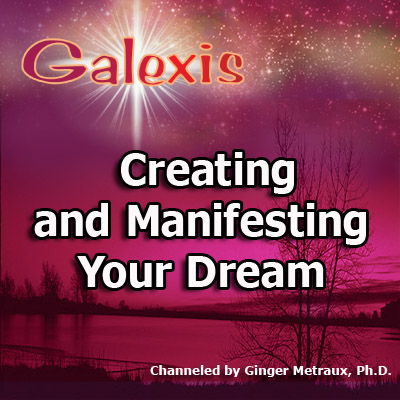 Item Number: 093
Creating and Manifesting Your Dream
Length: Approx. 3½ hours
Price: $34.97
Do you have a Dream or Vision that guides your life? If you find it hard to manifest your Dream, or you don't know yours, you'll find this enlightening workshop can help you get moving!
Galexis details the differences between fantasy, Dream and Vision. A well-built Dream opens you to magic and pulls you forward. Galexis suggests asking yourself seven powerful Questions to clarify and ready your Dream for magic. Then Galexis gives you seven
Actions to bring your Dream into glorious fulfillment.
The profound Question and Answer section reveals how to lift out of snags, traps and delays. Galexis then gives you a meditation to discover your own Life Dream and your Life Vision. Added bonus! Galexis "downloads" unlocking codes for your future!