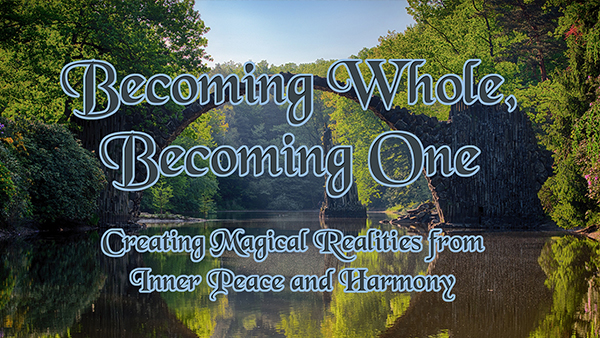 Item Number: 402
Becoming Whole, Becoming One
Creating Magical Realities from Inner Peace and Harmony
Length: Length: Approximately 3 Hours 10 Minutes long
Price: $29.97
Your Destiny is to become Whole; to be wholly yourself, realizing your unique Divine spark of consciousness. From there, you can enter the Divine Oneness. When you are whole, you can truly be the Reality Creator you came to be and fulfill your Mission.
Your Soul yearns for the exquisite and total Love, Peace, and Harmony of the Oneness. But you cannot bring that consciousness to yourself here and now as long as your psyche is fragmented with conflicting pieces of old programs, beliefs, unfulfilled emotional needs, traumas and pain, and you are at risk of being damaged by others and your world.
In this amazing seminar, Galexis shows you exactly how to heal separation, non-belonging, and inner conflict, thus ending your own fragmentation and achieve wholeness with its inner peace and harmony. What's more, Galexis takes you on a meditative journey to heal yourself of your inner conflicts and fragmentations. Then, Galexis helps you also heal your relationship with your world and begin your Divine Work of bringing your whole reality into alignment with love, peace, and harmony as well.
The result is that you can enter a New Life in your New World of love, peace, and harmony. You are free then to create and experience more love, joy, prosperity, and vitality as a higher vibrating You! If you are ready for a positive Life-Changing experience, this is it!
Description
Creating Magical Realities from Inner Peace and Harmony