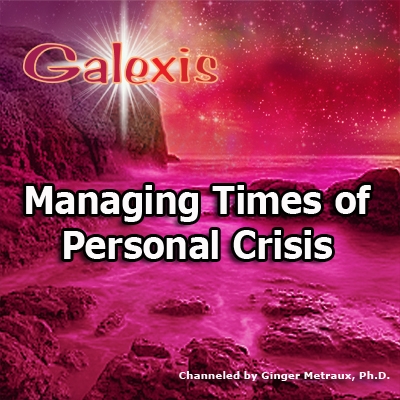 Item Number: 109
Managing Times of Personal Crisis
Length: Approx. 5½ hours
Price: $44.97
Are you willing to change? Let go of the past that doesn't work? Take a leap into freedom?
Whether you are in a time of great crisis, or simply a dynamic personal change period, Galexis will help you move easily and swiftly through the chaos/gap to pivot from the old to the new you. Learn how to dissolve resistances with love, and find the safety beyond the cravings for security. You'll come out of this workshop feeling trust in the Universal Plan you and your Crew have for you. You'll feel the power, freedom, and love. You'll be able to tap into the abundance of possibility for your bright future.
This workshop shares a powerful meditative experience of Being that enables you to feel more at ease with the chaos and a greater connection to your divine being. You'll gain the confidence you need for the liftoff into your new life!