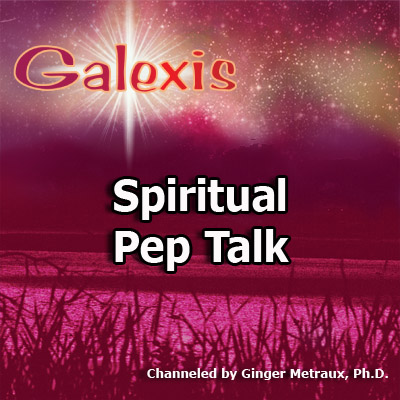 Item Number: 088
Spiritual Pep Talk
Length: Approx. 2½ hours
Price: $24.97
Even powerful Light Workers can get tired at times. Most often you give more than you receive and you can become depleted,
exhausted, drained, and even discouraged.
Galexis offers you a spiritual energy boost so that you can give of yourself with that compassion and heartfelt love your mission calls you to do. The meditation in this workshop creates for you a reservoir of light, energy and power. Allow yourself to be pumped up, replenished, and reinvigorated for your life!
A second, special bonus meditation is added to this workshop to rev up your financial prosperity and increase the precision of your manifestations. Just by itself it is powerfully healing, uplifting, and transforming. But in combination with the first meditation, you could very well be invincible!
Included a bonus financial meditation