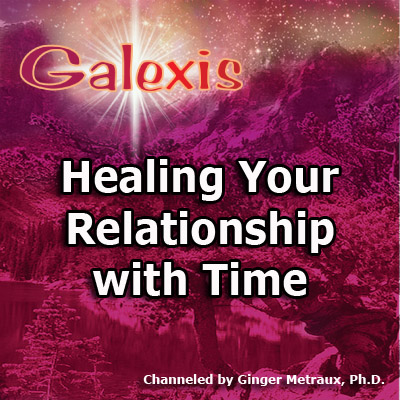 Item Number: 084
Healing Your Relationship with Time
Length: Approx. 3 hours
Price: $34.97
The most common complaint of all people is that they don't have enough time. Life is short and it is tough to fit in everything that must be done. For those on their spiritual path, time limitations can seem to keep them from completing their Mission. Your ultimate spiritual journey is to transcend the Third Dimensional reality and step into the freedom of Fourth Dimensional reality where you can tap the power of eternity.
When you know how to work with Time as an ally, you will find the secret entry into a magical arena where you can develop mastery of your life. In this workshop, Galexis shares how Time is constructed, how you already create using Time, and the limitations and resistances you have that keep you from having a positive relationship with Time. Isn't it "time" to experience the abundance of time, it's awesome magic ,and the potent forces of the Fourth Dimension that can work for you?
The workshop ends with a meditation where Galexis takes you on a journey to heal you and Time and to open you to the wondrous possibilities of magic that lie ahead.