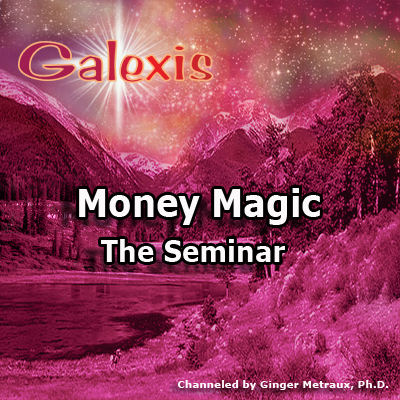 Item Number: 114
Money Magic
Length: Approx. 10½ hours
Price: $139.97
Money Magic is finally here – the next octave beyond the Law of Attraction and the best applied manifestation magic for spiritual people on the planet!
In Money Magic, you'll hear Galexis discuss hot topics such as receiving money, connecting with the mainstream and allowing the mainstream to give you money, creating more prosperity pathways in the brain, juicing yourself up to repower yourself, the new matrix of personal radiance/identity/Light, utilizing the positive ego, working with your reality as a supportive friend, and starting a momentum of money flow to you.
During the workshop, Galexis does brainwork on you (just as potent on the CD's!), and gives useful tips on how to use your reality feedback for maximum leverage and healing change, money wise!
Every metaphysical or spiritual person who's been frustrated with money will find this workshop their ticket to money freedom!
The workshop includes 2 energy/information/programming downloads. You listen to one of them before you listen to the workshop and one a few days afterwards