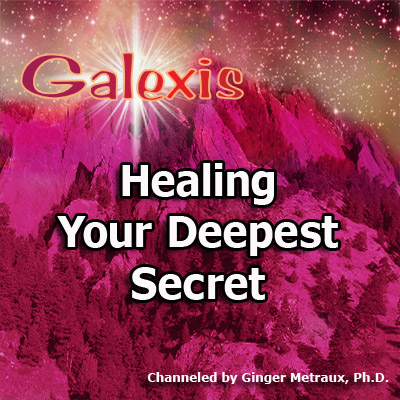 Item Number: 085
Healing Your Deepest Secret
Length: Approx. 3 hours
Price: $34.97
What secrets do you hold about yourself? And what façade have you created as a cover so that no one will see them? Do you pretend that they are not there? Have you forgotten them? If you don't know both your dark and light secrets, you are at risk of being perpetually stuck in the pain, fear, emotional drama, and powerlessness that they bring you.
To free yourself and to step into the power, light and love you have and are, these inner secrets must be healed and released and your facade cleansed. In this deep workshop, Galexis helps you find and heal your core Dark Secret and then reveal the Light Secret that can free you. Re-open Pandora's box. Retrieve hope and the amazing mysteries that lie beneath it.
After an in-depth question and answer session, Galexis leads you on a profound and deeply changing meditation so that you can be the reality creator you came to be and shine the light you came to shine. Let yourself be changed forever!